Background
Plastic bags, wraps, and film of any color, size, or shape are not accepted in DC's curbside single stream recycling bin (the blue bin).
Currently, plastic bags, wraps, and film cannot be recycled when they are sent to local recycling facilities. These materials clog machinery used to process recyclable materials resulting in operational problems, facility shutdowns and safety hazards to employees.
Recycling Through Store Drop-Off
It is possible to recycle these materials if they are dropped off at grocery stores and retailers voluntarily participating in a plastic film recycling program. When these materials are dropped-off at participating locations, they are recycled into many products including new bags, composite lumber, pallets, containers, crates, pipes, and more. There are more than 25 locations throughout the District along with additional options in Maryland and Virginia. You can also enter your zip-code to find your nearest recycling location by going to the Plastic Film Recycling Directory (http://www.plasticflimrecycling.org).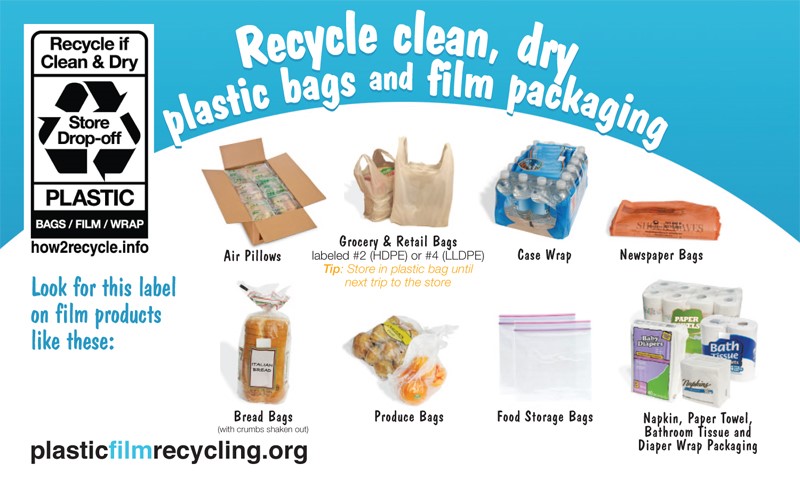 From Home to Curbside
Just remember: Recycling facilities may reject recyclables if they are contained in a plastic garbage bag or include wraps and film of any kind. Consider designating a recycling bin, basket or a reusable tote bag within your home to collect your recyclables. Recyclable materials (e.g. bottles, cans, paper) should still be dumped loosely into your curbside recycling bin. Note: although the District's curbside recycling collection program works best when materials are not bagged at all, some residents may prefer to collect recyclables in an open paper bag which may be dropped into their collection cart. These paper bags will be recycled along with the materials you have collected.