About the Plan
With the introduction of the Sustainable DC Plan in 2013, the District of Columbia adopted an ambitious Zero Waste goal for the city: to divert 80 percent of solid waste away from landfill and waste-to-energy by 2032. This commitment was then codified into law through the enactment of the Sustainable Solid Waste Amendment Act of 2014, requiring the District to develop a Zero Waste plan to achieve this goal.
After 7 years of diligent planning and research, the Office of Waste Diversion begun soliciting input from the community in August 2022 in support of the Zero Waste DC Plan's development.
A comprehensive Zero Waste DC Plan will identify the mix of policies, programs, and actions that the city must take to achieve Zero Waste at all levels – From investing more in education and outreach, incentivizing waste reduction, reuse, and recycling, to rethinking the built-environment to provide more equitable access and increase waste diversion potential.
Waste diversion has real benefits for Washington, DC at all levels:
Individual: Individuals benefit from reducing waste at its source by taking actions like eliminating single-use plastics and embracing reuse. Reducing waste at its source results in less litter and pollution in our neighborhoods, parks, and waterways.
Neighborhood: Communities will benefit from clean, litter-free streets and access to clean and attractive green spaces. The development of a circular economy spurs job growth, attracts business investment, and provides valued goods and services for all to enjoy.
Citywide: By separating the District's waste into identifiable and clean streams, we collectively help to conserve our planet's natural resources, reduce greenhouse gases, fight climate change, and build resilience from within.
Zero Waste DC Plan Development Timeline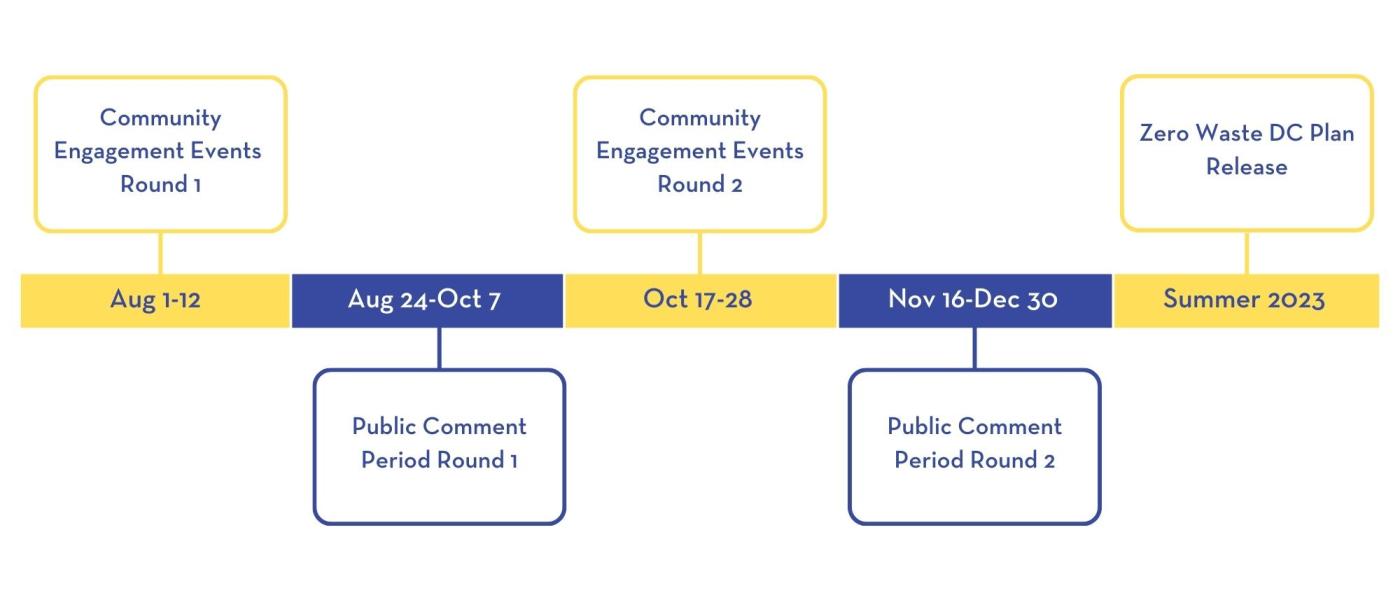 The Plan is being developed from feedback received during a 5-month long public engagement cycle, which provided residents, businesses, and government officials equal opportunity to voice their concerns, share their ideas, and inspire solutions to address topics like rodents, odor, and litter to development of a circular economy (jobs) and more robust Zero Waste infrastructure.
This public engagement cycle was comprised of two parts with the 20 engagement events held in two rounds of 10 – the first in August and the second in October – allowing ample opportunity for the public to participate. A 45-day comment period followed each series of 10 events, during which time the Zero Waste DC Plan's draft framework was posted on Public Input – an online public comment platform suited for soliciting collaborative feedback from the public.
To support the public engagement cycle, the Office of Waste Diversion also facilitated a public survey – providing the community an opportunity to share their participation and experience with the District's waste management programs and services and to relay any issues and suggestions.