Happy Holidays DC! Did you know that household waste increases by more than 25% from Thanksgiving to New Years? Here are some tips to reduce holiday waste being sent to landfills.
Holiday Reduce & Reuse Tips
Choose decorations that are natural. Decorate with gourds, pine boughs, and other items found in nature. Then, when you're done with them, you can compost them in a community compost bin.
Give experiences instead of stuff! Tickets to a show, dinner for two, or massage coupons are all great gift ideas that require no packaging. The only thing left behind is happiness and memories of a good time. So think outside the gift box and give some fun this holiday season.
Going holiday shopping? Leave a reusable bag in your car or at your office for impromptu shopping trips.
Baking cookies or other goodies this holiday season? Package them in reusable and/or recyclable containers as gifts. Homemade goodies show how much you care and help you avoid packaging waste.
Use recycling signs to let your guests know where to properly dispose of their wastes at your holiday party.
Waste Less Wrapping Paper - A Guide to What's Recyclable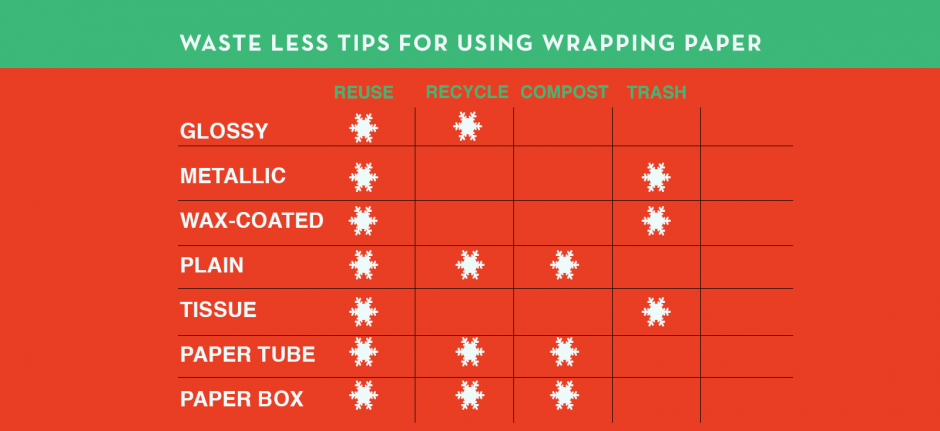 Glossy and plain wrapping paper can be recycled in your curbside bin. Tissue paper, along with metallic and wax-coated paper are not recyclable and should be reused or thrown away.. Remember paperboard and cardboard products are recyclable, including gift boxes and wrapping paper tubes.
Pro tip: Don't be afraid to get creative. If you have leftover gift bags from last year, reuse them, or try using newspaper, brown paper bags, or even a piece of cloth that you no longer need. You can even forgo wrapping gifts all together!
Empty, Flatten and Recycle Shipping and Gift Boxes
Recycle your shipping and gift boxes. Whether you buy gifts at the store, order online, or make them yourself, remember to empty, flatten and recycle your packaging and boxes (bonus points if you saved any gift boxes or bags from next year).
Recycle While Cooking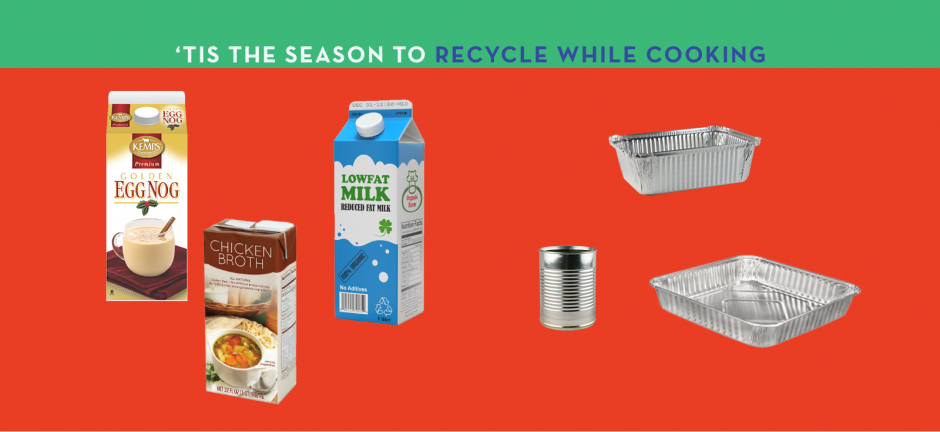 Holidays are all about cooking delicious meals. Did you know that the packaging for most cooking ingredients can be recycled? Carton items for broth, eggnog, milk, and juice can go right in your blue recycling bin once rinsed and emptied. So can pie pans and cans.
Pro tip: Buy ingredients in bulk and use reusable containers when possible. Consider making your own broth using leftovers in your refrigerator. Use the Guest-imator when shopping to ensure you make just the right amount for your holiday dinners.
Keep Tanglers Out of the Bin (No Holiday Lights or Ribbons Please)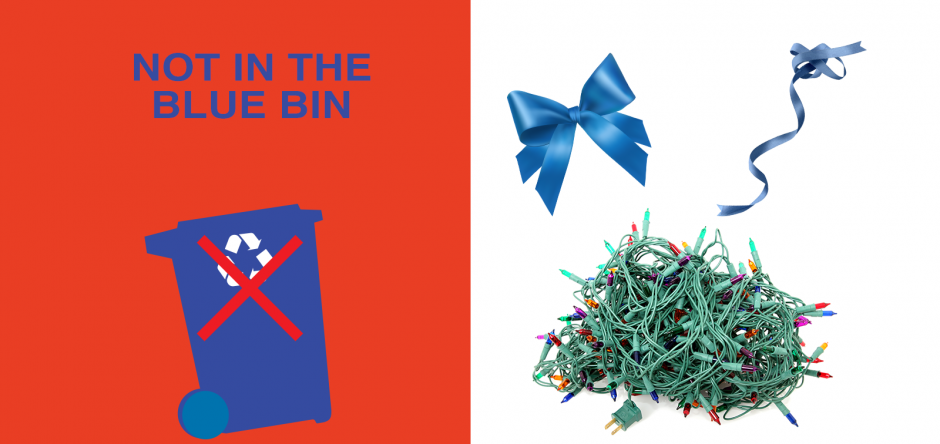 Did you know string items such as holiday lights ribbons & bows can get tangled in recycling sorting machinery? Remember to keep them out of your recycling cart. For alternative recycling and safe disposal options for holiday lights, search the DC's What Goes Where Tool.
How to Recycle Your Holiday Tree
Holiday trees and greenery collected December 28 - February 5 can be given a new life by being composted or chipped for mulch. Compost will be made available to residents at no charge. Here are the three steps to follow:
*Tree Collection services is available for DC DPW serviced households only.
**Multi-family tenants are encouraged to make arrangements with your property manager or use a drop off location.
If you are in a DPW-serviced households, DPW will collect your holiday tree and greenery between January 11 - February 5. Multi-family residents are encouraged to use the drop off.
Remove the stand and all decorations, including lights, ornaments, tinsel, and garland. Be sure no metal attached to the tree.
Trees and greenery should be placed in front your home or where your trash and recycling is collected.
Drop off Locations
Benning Road Transfer Station, 3200 Benning Road, NE: 9AM-4PM
Fort Totten Transfer Station, 4900 Bates Road, NE: 9AM-4PM
Bryant Street Sweep Shop, 201 Bryant Street, NW: 9AM-4PM
South Capitol Street Graffiti Shop, 2700 South Capitol Street, SE 9AM-4PM
Pro tip: Branches and needles can also be recycled. Simply chop them up for composting, or spread them under trees and shrubs as a temporary winter mulch.
How to Dispose of Your Artificial Tree
Households Serviced by DC DPW
If your trash is regularly collected by DPW, request a bulk trash pickup for your artificial holiday tree.
Households Serviced by Private Haulers
If you or your building uses a private trash service, check with your collection company for instructions.
*If your artificial Christmas tree is still in usable condition, consider offering posting it on your neighborhood list-serv, Craigslist, your local Freecycle group, or similar places.
How to Dispose of Your Wreaths and Roping
Wreaths and roping are typically bound together with wire. Wire damages our shredding equipment and contaminates mulch.
If you can separate the greens from their wire, natural wreaths and garland can be composted or mulched with your holiday tree. Just place it in front the home on your scheduled collection day.
Or you can bag or bundle them as yard trimmings, and set them out for collection on your recycling day. Otherwise, dispose of your wreaths and roping as trash.
More questions?
If you have more questions on how best to recycle, reuse, or safely dispose of your waste, search the What Goes Where tool for more tips and suggestions.